Disaster Team is a full service restoration and reconstruction contractor. We are experienced in handling projects ranging from the simplest residential repair projects to the most complex multi-million dollar commercial reconstruction projects. Some examples of the projects we have handled are listed on the Home and Gallery pages. We overcame many challenges and successfully completed repairs that other contractors deemed impossible while working on these projects. Our trained and highly skilled staff of restoration and construction personnel handled these large projects concurrently with the restoration of hundreds of residential and small commercial properties that were damaged during the same disasters. We are trained and equipped to help people recover from losses resulting from all perils, including: fire damage, water damage, mold, sewage backup, vehicle collision, vandalism, wind damage, smoke, and odor.
Not only does Disaster Team have the capability to handle large volumes of projects of any size, we pride ourselves in maintaining high quality service. We have a reputation for quality and we are dedicated to maintaining our reputation.
Disaster Team is certified by the Institute of Inspection, Cleaning and Restoration Certification (IICRC), and provides industry-recognized training classes for restoration contractors, adjusters, and insurance agents in our training classroom located in our main office. All of our restoration personnel hold IICRC certifications and participate in rigorous training programs annually to maintain current certifications and attain new certifications. We are serious about education and training!
We are also serious about being properly equipped. Disaster Team has the full Fireline Ultra-sonic cleaning system as well as a state-of-the-art electronics cleaning and deodorization system (pictured below). Using these systems, we can restore personal belongings and electronics to pre-loss condition quickly and efficiently. The systems enable us to fully restore items that our competitors cannot. We store all of the items we restore in our secure climate controlled facility until we deliver them to the owner when they are ready to receive them.
Disaster Team's experience, dedication to quality, knowledge, and equipment set us apart from our competitors. We are the clear choice for everyone's restoration needs.
(pictured below: Disaster Team's Fireline Ultra-sonic cleaning system & electronics cleaning and deodorization system)
At Disaster Team Inc., we believe strongly in the importance of integrity. It guides us in our selection of employees and the tradespeople with whom we work. We do what we say we are going to do, and we make every attempt to do things right–the first time.
We believe it is important to show respect to our clients and customers in every encounter. We respect and appreciate those whose jobs impact our work, including insurance adjusters, building inspectors, and material suppliers. We respect our fellow employees and value their insight and input.
We understand that many of our customers come to us after they have experienced a traumatic event such as a fire or a flood. We have chosen this line of work because we can use our skills to help those in need. We also use these skills to help those that are not as fortunate, as when we provide our services to non-profit organizations.
Our core competency is project management. We know that most problems stem from inadequate or improper communication. We strive to establish expectations with our customers, and we stay on schedule.
We have an entire team of professionals on stuff to serve you when disaster strikes. Team members include:
Emergency Services Technician – Trained technicians will assess the damage to your property, determine the appropriate course of action for stabilizing the property to avoid further damage, and complete the required emergency repairs. Technicians are available to respond to your emergency 24/7/365. Services provided include:
Water extraction
Structural drying
Board-up
Temporary roof repairs
Odor mitigation
Trauma cleanup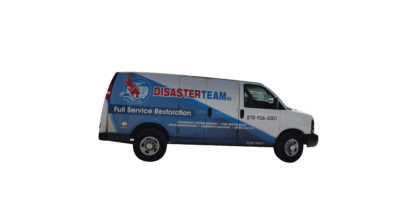 Estimator – Your estimator will work with you and your insurance carrier (if you file a claim) to determine the cost of the repairs required to restore your property. The estimator will meet with you and your adjuster to assess and photograph the damages to your property, obtain measurements of the affected areas of the structure, discuss your concerns regarding the repairs, and agree on the scope of the repairs with your adjuster. The estimator will utilize this information to complete a detailed repair estimate, including all work to be completed by Disaster Team and reach an agreed cost of repair with you and your insurance carrier. Our estimators typically utilize Xactimate®, an estimating platform utilized by most insurance carriers and restoration contractors, to estimate the cost of restoring your property.
Project Manager – Your project manager is responsible for making sure your project is completed on time and within budget. Their role in the process includes creating a schedule for completing the work, ensuring repair technicians and subcontractors adhere to the project schedule, inspecting the work completed, and maintaining high quality workmanship on your project. The project manager will keep you informed regarding the progress of the repairs and address any concerns that many arise during the repair process.
Repair Technician – Skilled repair technicians will complete the work at your property. Disaster Team utilized on staff repair technicians as well as subcontractors to provide fast and high quality service. All repair technicians and subcontractors working on your property are properly licensed and insured.